17th June 2017
Duck Race
Thank you to The Jenkinson Family for organising this great event. It was nice to see so many Fathers enjoying their Father's Day at the annual Duck Race! Well done to those who won a prize and thank you to everyone who sold tickets. The grand total is yet to be announced but it is estimated to be around £550. The proceeds from this event will be used to benefit all the pupils.
Thank you to The Thornton Family for the use of the field, the Hey's for manning the BBQ, the PTA for refreshments and all the folk that helped in the Beck... hope your feet are beginning to dry out!!
29th March 2018
Easter Service at St. Johns Church Corney
We held an exciting Easter service in St. John's Church Corney today. It was lovely to be joined by family and friends of school. The children were amazing in their performances.
Happy Easter to you all and a special thanks to Rev. Gill Hart for inviting us.
Easter Service - Watch this fabulous video clip of class 1's performance of 'I'm a little chick'
Spring is in the air..... let's get sowing....
Copeland Small Schools Gymnastics Champions 2018
Well done to our gymnastic team who scored an impressive 81 points at Whitehaven in the Key Steps 3 Final. We wish you the best of luck in the finals on the 29th of March.
TESCO BAGS OF HELP SCHEME!
Thank you so much for your support!
Organisation Name - Waberthwaite CE School;
Project Title - Waberthwaite School and Community Library
Please see below a list of stores taking part in the voting on your project. Feel free to share this list of stores amongst your supporters and within your community.
6583 AMBLESIDE MARKT P EXP LA22 9BU
5493 BOWNESS WINDERMER EXP LA23 3DB
4485 KENDAL HIGHGATE LA9 4SX
6134 Millom LA18 4BX
Outdoor Learning!
We are delighted to have had our Lottery funded outdoor learning areas completed over the last couple of days! This now means we have two purpose built areas in which the children can learn outdoors – the outdoor classroom and the nature area, and in addition we have had some extra items added to Class 1's outdoor learning environment. Hopefully your children will be as excited about these developments as we are!
There are more surprises in store over the next few months so please bear with us but we know you will agree that it will be worth the wait!
Copeland Small Schools Cross Country Champions 2017!
Our pupils are amazing! Not only did the Year 3 and 4 children win the Copeland small schools championship, the Year 5 and 6 team were also the champions of their age category! You were all amazing and we could not be more proud of you all. You are the small schools champions for the whole of Copeland! An extra well done has to go to Olivia who won her race.
Non-Uniform in aid of Millom Flood Appeal
An amazing £96.05 has been raised through today's non-uniform day. Well done to everyone for supporting the event and raising so much money for a fantastic local cause!
Millom Schools Cross Country 6th September 2017
Amazing cross country results today from a very dedicated and determined team of children from years 3, 4, 5 and 6. They represented the school so well and particularly demonstrated the Christian values of friendship and endurance in their efforts! A particular highlight was the sight of all of the completed runners running back up the course they had just finished to all the way back with a struggling team member, to help them to complete the race. It was a very proud moment, particularly with the announcement from one of the team members of, "We don't leave anyone behind - what are friends for?"
Results:
Y3/4 girls: Annie 1st, Katrina 5th
Y3/4 boys: Reuben 1st, Jude 7th
Y5/6 mixed girls and boys: We were the only school so finished in the top 8 places! :)
Harvest Service 5th October 2017
Our harvest service was celebrated at Waberthwaite Church with a range of songs and performances by the children. We really hope you enjoyed the service as much as we did and thank you for supporting the children's charity choice of buying a farmer somewhere else in the world the items they need to feed and support their family. They raised £65.05 which the school council will spend in the Oxfam online shop next week. We will let you know what they choose!
Millom Schools Football Tournament 25th September 2017
Well done to our Year 5/6 football team who came 2nd in the Millom Schools football tournament. Won 3: Lost 1! You played really well and were a credit to the school both on and off the pitch!
21st May 2017
Duck Race 2017
We made an amazing grand total of £1536 towards fixing the field at our duck race on Sunday! It was a fantastic day and the sun shone - thank you to all who supported us.
5.5.17
Tag Rugby Festival
We have had a super day in the sunshine at the Tag Rugby Festival today! It was fantastic to see so many schools competing and the children really enjoyed their matches.
6.4.17
Easter Service at Corney Church
Thank you to all who were able to join us at St John's at Corney this morning for our Easter service. It was lovely to hear the walls ringing with the sounds of the children singing, and to be joined by so many parents and members of the local community.
25.3.2017
National Cross Country Championships
Well done to Olivia who represented the county in the Year 5 race at the National Cross Country Championships in Leicestershire. She represented the school and the county well and ran her socks off!
24.3.17
Comic Relief - We have raised £366.55 from our coffee morning, red nose sales and non-uniform. Well done everyone!
13.3.17
Cumbria Wildlife Trust Visit
Today we had a visit from Jamie Normington from Cumbria Wildlife Trust. Class 1 and 2 enjoyed learning about the birds that visit the school grounds and we all made bird nest boxes that we will be putting up around the school site to help look after our birds.
A really huge thank you to Jamie and Nugen for sponsoring the visit and funding the resources.
The Bird box kits were skilfully prepared by 'Skills For You' from Cleator Moor, a project that offers practical skills to people who may find them useful when seeking employment.
1.2.17
Cumbria Cross Country Trials
A really HUGE well done to our cross country runners. The going was tough and the races were fast but our runners gave it everything they had!
9.12.16
Christmas has arrived at Waberthwaite School...
We have all had a fantastic Christmas dinner today!
A huge thank you to Mrs Jenkinson and Mr Drage who worked extremely hard to provide us all with a delicious meal!
Also, a big thank you to the Governors who were able to join us!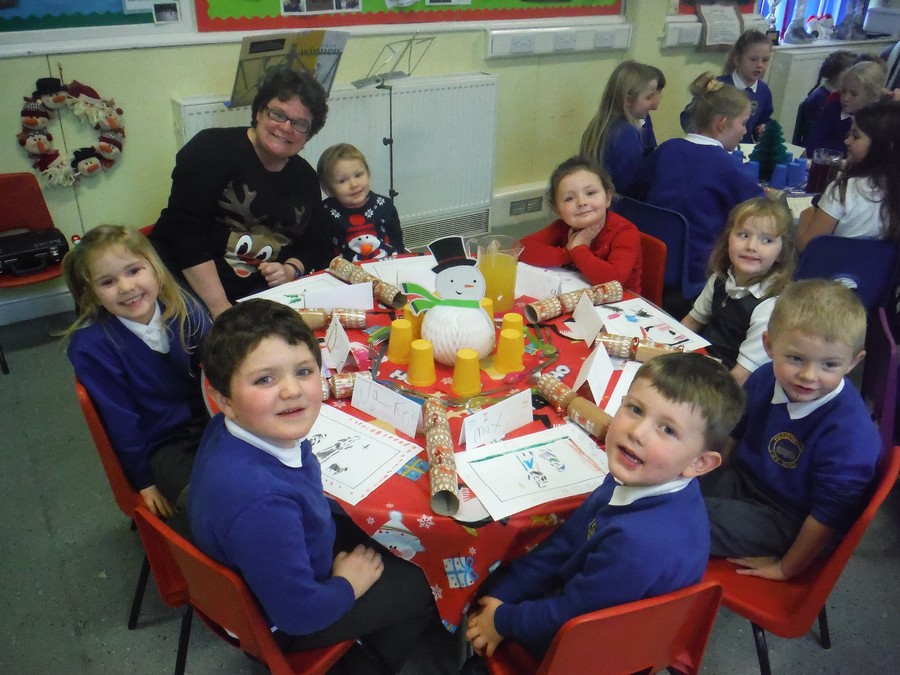 Friday 11th November
Waberthwaite Remembrance Service with St Begas School
Shakespeare Schools Festival
Class 3's 'A Midsummer Night's Dream' brought the house down at The Theatre by the Lake at Keswick! We were delighted by the reception they received and would like to thank parents for their support, and we could not be prouder of the children for all of their efforts. A full range of photographs from rehearsals can be found on the website. If you missed our performance, do not worry! We will be performing it again as our festive treat to you!
Cumbria in Bloom Award Presentation
Monday 12th September
During the summer holidays we received a special invitation to the Cumbria in Bloom Awards Presentation! As the event clashed with our whole school trip to the Westmorland Show it meant that our young gardeners were unable to attend to see if we had won an award. Luckily, one of our school governors, Mrs Winzor offered to represent the school and attend the event on our behalf. Today, Mrs Winzor came in to our assembly to tell us if we had been successful and helped us to celebrate all the hard work that the pupils, staff, parents and members of the community had put into our garden since we started to develop it at Easter time. Mrs Winzor told us all about the presentation and how there were over 200 people there who had been busy making their schools, villages, towns, hotels and gardens look beautiful over the past months. It was good to hear how school gardening is going from strength to strength across our county with 26 schools entering the school category of Cumbria in Bloom this year!
This is how we did...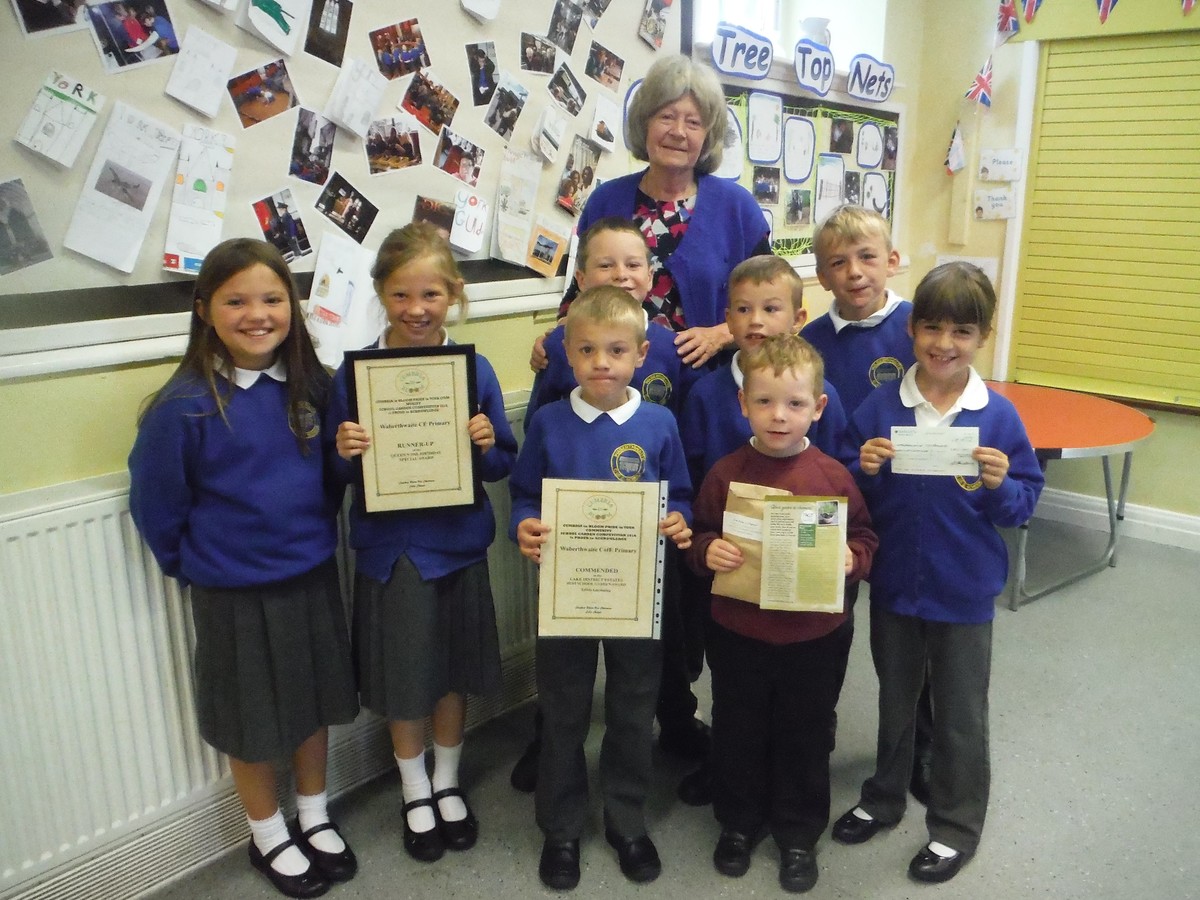 ...in the Edible Garden Section we received a Commended Award and in the Queen's 90th Birthday Special Category we achieved Runner's Up and £25.00! We also received some pea seeds from the Mencap charity as part of their 'Give Peas a Chance' campaign which we have put somewhere very safe so we can plant them next spring.
The children have been enjoying home grown vegetables for their school dinners (and will do for some time yet!) so receiving awards for their gardening as well was extra special. Thank you to Mrs Winzor and EVERYONE else who has helped, donated, advised and supported our gardening, it has all been very much appreciated and will continue to be welcomed with open arms! WELL DONE EVERYONE!
Westmorland County Show
We had a great, if a little damp and muddy, visit to the Westmorland County Show on Thursday 8th September. All of the children, from nursery to Year 6 were invited to attend and we would like to thank the show organisers for providing us with free tickets!