An imaginative use of the school grounds enriches the curriculum and contributes to children's spiritual development and wellbeing. The school's inspirational garden enables all pupils to grow and harvest their own produce. Children respond imaginatively to the gift of God's creation and our responsibility to care for the world.
SIAMS 2018
Well done team Waberthwaite!!
We have once again been classed as OUTSTANDING by the Cumbria in Bloom judges!! This year we can most definitely and very proudly say that EVERY class of green fingered pupils and staff have played their part in producing a garden to be extremely proud of. The flowers look amazing, the pollinating insects are loving the bee garden and the produce from the vegetable patch is going down extremely well at lunch times!
As well as all the staff and pupils working hard we have been supported and helped by many parents, grandparents and members of the community who have offered their time, expertise, muck, seeds, plants and enthusiasm to help us along the way. THANK YOU VERY MUCH!
10.7.18
Our Garden Looks Amazing!
Potato Harvest 2018
It's time for each class to harvest their potatoes, weigh them and enter their final weights into the inter class potato growing competition.
6.6.18
MONSTER Pumpkin Planting!
A few weeks ago the Nursery children planted 2 tiny pumpkin seeds that the school received from the RHS. The seeds are special and are guaranteed to grow MONSTER PUMPKINS. The children have watered their seeds, read them stories and checked on their progress regularly. Following a delivery of extra special pumpkin growing manure produced by the Capstick's cows it was finally time to plant the pumpkin plants out.
Many thanks to the Capstick family and their cows.
9.5.18
Planting Out The Vegetables
Today the class 1 pupils all worked as a team to plant up the vegetable beds.
They planted french beans, runner beans, rainbow chard, beetroot, red cabbages, spinach, white cabbages, curly kale, courgettes, carrots and loads of lettuces.
4.5.18
Class 2 Plant Out Some Bedding Plants, Strawberry Plants and Fruit Bushes.
Friday 20th April 2018
Today we have been kindly joined by Mrs Simm who is sharing her extensive gardening knowledge with both Children and Staff. We have been re homing the strawberry plants and planting seeds to create an amazing Bee sanctuary. It was also a chance for us to see how our seeds and potatoes are developing that we planted before Easter.
Class 3 Prepare The Beds For Planting
Spring has Sprung!
It's time to plant some flower seeds, tomato seeds and get our chitted potatoes in the ground.
March 2018
Setting up a New Bird Feeding Station
6.10.17
In true Waberthwaite spirit Class 3 have decided to make fun of the ongoing drainage works on our school field and gardens in their musical hero themed creation for the Millom and Haverigg scarecrow competition. Welcome to Waberthwaite - MUD!! Well done Class 3 on your fantastic entry!
BREAKING NEWS! We have received an invitation to the Cumbria in Bloom Awards Ceremony on the afternoon of Thursday 21st September at Silloth Golf Club. We are really excited to have been invited to this event and can't wait to see what special award we are going to receive. Watch this space for news...
9.9.17
Waberthwaite, Corney and District Gardening Club Show
Well done everyone! At this years show we managed 4 entries! Class 3 got a second with their stump carrots, and a third with their long carrots. Class 3 also managed to enter 4 beautiful tomatoes but the competition was too great to get placed in this class.
Class 1 received a third place with their flower arrangement (no larger than 6 inches in size). The bees and other pollinating insects are really enjoying the class 1 flower bed which is truly shining bright this rainy autumn.
Thank you to all the gardening experts who showed us the ropes once more at this local garden show. We had no idea that trimming carrots was so technical! Your help is always appreciated.
Cumbria In Bloom Success
It was a pleasure to welcome the Cumbria in Bloom judges this year; it is always nice to share stories and learn from like minded enthusiasts. They were particularly impressed with the way we link gardening to all aspects of the curriculum and how enthusiastic and knowledgeable the pupils are when it comes to all aspects of soil preparation and plant growth.
We were delighted to receive an OUTSTANDING award from Cumbria in Bloom this year.
23.5.17
As part of their World War One Day class 3 have been digging for victory and have planted lots of vegetable plants in their WW1 themed garden.
4.5.17
Class 1 plant lots of seeds in their flower bed. They are planting flowers that will attract pollinating insects to the school garden.
Today we weeded the original raised beds and wildlife area, potted up the baby strawberry plants and planted violas in our recycled milk bottle planters.
Spring time preparations for the 2017 growing season. Well done everyone, this afternoon we managed to go from this.......
2016 Gardening Highlights
Cumbria in Bloom Award Presentation
Monday 12th September
During the summer holidays we received a special invitation to the Cumbria in Bloom Awards Presentation! As the event clashed with our whole school trip to the Westmorland Show it meant that our young gardeners were unable to attend to see if we had won an award. Luckily, one of our school governors, Mrs Winzor offered to represent the school and attend the event on our behalf. Today, Mrs Winzor came in to our assembly to tell us if we had been successful and helped us to celebrate all the hard work that the pupils, staff, parents and members of the community had put into our garden since we started to develop it at Easter time. Mrs Winzor told us all about the presentation and how there were over 200 people there who had been busy making their schools, villages, towns, hotels and gardens look beautiful over the past months. It was good to hear how school gardening is going from strength to strength across our county with 26 schools entering the school category of Cumbria in Bloom this year!
This is how we did...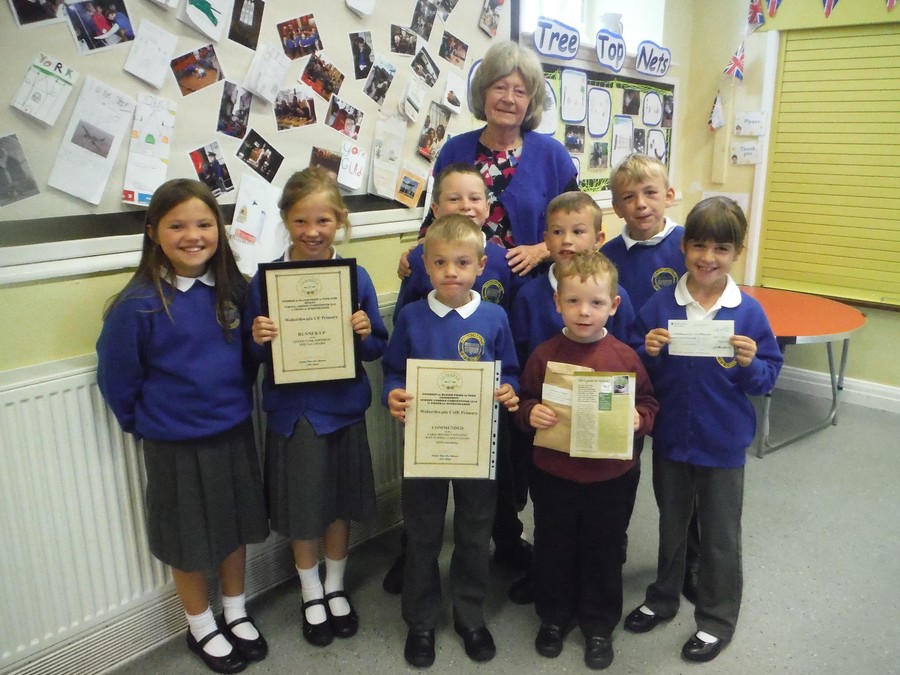 ...in the Edible Garden Section we received a Commended Award and in the Queen's 90th Birthday Special Category we achieved Runner's Up and £25.00! We also received some pea seeds from the Mencap charity as part of their 'Give Peas a Chance' campaign which we have put somewhere very safe so we can plant them next spring.
The children have been enjoying home grown vegetables for their school dinners (and will do for some time yet!) so receiving awards for their gardening as well was extra special. Thank you to Mrs Winzor and EVERYONE else who has helped, donated, advised and supported our gardening, it has all been very much appreciated and will continue to be welcomed with open arms! WELL DONE EVERYONE!
Waberthwaite, Corney and District Gardening Club Open Horticultural Show
Saturday 3rd September
A really big 'thank you' to Waberthwaite, Corney and District Gardening Club for all the advice and encouragement we received today as we entered our first horticultural show. We entered 5 classes, proudly showing off onions, potatoes, tomatoes and our enormous sunflowers! Our onions and tomatoes were dwarfed by the competition but our potatoes won a first in their class and a prize of £2 which will help towards buying seeds to grow next years entries!
Summer Holiday News
It's good to see that it's not just the weeds that have grown over the summer! The onions and potatoes have produced a good crop. The tomatoes are beginning to ripen and the swedes, carrots and leeks are getting bigger by the day.