23.5.17
As part of their World War One Day class 3 have been digging for victory and have planted lots of vegetable plants in their WW1 themed garden.
4.5.17
Class 1 plant lots of seeds in their flower bed. They are planting flowers that will attract pollinating insects to the school garden.
Today we weeded the original raised beds and wildlife area, potted up the baby strawberry plants and planted violas in our recycled milk bottle planters.
Spring time preparations for the 2017 growing season. Well done everyone, this afternoon we managed to go from this.......
2016 Gardening Highlights
Cumbria in Bloom Award Presentation
Monday 12th September
During the summer holidays we received a special invitation to the Cumbria in Bloom Awards Presentation! As the event clashed with our whole school trip to the Westmorland Show it meant that our young gardeners were unable to attend to see if we had won an award. Luckily, one of our school governors, Mrs Winzor offered to represent the school and attend the event on our behalf. Today, Mrs Winzor came in to our assembly to tell us if we had been successful and helped us to celebrate all the hard work that the pupils, staff, parents and members of the community had put into our garden since we started to develop it at Easter time. Mrs Winzor told us all about the presentation and how there were over 200 people there who had been busy making their schools, villages, towns, hotels and gardens look beautiful over the past months. It was good to hear how school gardening is going from strength to strength across our county with 26 schools entering the school category of Cumbria in Bloom this year!
This is how we did...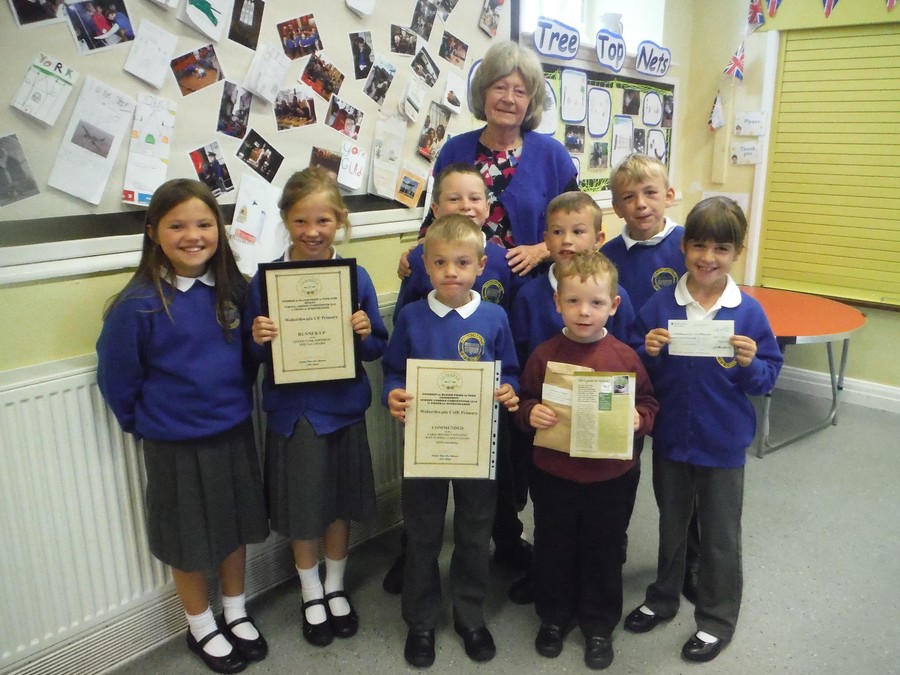 ...in the Edible Garden Section we received a Commended Award and in the Queen's 90th Birthday Special Category we achieved Runner's Up and £25.00! We also received some pea seeds from the Mencap charity as part of their 'Give Peas a Chance' campaign which we have put somewhere very safe so we can plant them next spring.
The children have been enjoying home grown vegetables for their school dinners (and will do for some time yet!) so receiving awards for their gardening as well was extra special. Thank you to Mrs Winzor and EVERYONE else who has helped, donated, advised and supported our gardening, it has all been very much appreciated and will continue to be welcomed with open arms! WELL DONE EVERYONE!
Waberthwaite, Corney and District Gardening Club Open Horticultural Show
Saturday 3rd September
A really big 'thank you' to Waberthwaite, Corney and District Gardening Club for all the advice and encouragement we received today as we entered our first horticultural show. We entered 5 classes, proudly showing off onions, potatoes, tomatoes and our enormous sunflowers! Our onions and tomatoes were dwarfed by the competition but our potatoes won a first in their class and a prize of £2 which will help towards buying seeds to grow next years entries!
Summer Holiday News
It's good to see that it's not just the weeds that have grown over the summer! The onions and potatoes have produced a good crop. The tomatoes are beginning to ripen and the swedes, carrots and leeks are getting bigger by the day.