New Starters and Year 6 parents!
The deadline is fast approaching for new home to school transport applications for pupils starting in September. The deadline for the new home to school transport applications is the 31 May. Applications can be made here.
Any queries please email school.transport@cumbria.gov.uk
URGENT UPDATE
DO NOT SEND YOUR CHILDREN TO SCHOOL UNLESS YOU ARE AN ESSENTIAL WORKER AND YOU HAVE NO ALTERNATIVE OPTION.
Some schools are choosing to open on an emergency basis. This is not free childcare.
Only where a parent is employed in an essential job AND their specific role is critical to the country's COVID-19 response AND there is no alternative childcare option available should children be sent to school.
If there is a second parent, or other suitable non-vulnerable person in the household, and they are not an essential worker they should look after children unless families make alternative arrangements.
If families do not act on this guidance, schools that are open may be overwhelmed and children will not be safe.
Be responsible. Please do not make a bad situation worse.
Please share this text on social media.
Arrangements in Cumbria
Your child's school will have contacted you by now to inform you of which local schools will be open. This may not be your child's usual school.
The situation is changing rapidly and things may change between now and tomorrow morning. Check your email and phone before you set off to school.
Do not expect to be able to drop your child off at school as normal. Time will be required to register children. Put aside at least 1 hour.
Do not arrive before 9.30am.
Prepare for the possibility that these arrangements may be temporary and Government may place further restrictions over the coming days.
Schools and those staffing them will be under pressure. Be patient and recognise that everyone involved is trying their best.
Definition of essential workforce
NOTE: Only if your specific role is critical to the country's COVID-19 response are you an essential worker.
Health and social care
This includes but is not limited to doctors, nurses, midwives, paramedics, social workers, care workers, and other frontline health and social care staff including volunteers; the support and specialist staff required to maintain the UK's health and social care sector; those working as part of the health and social care supply chain, including producers and distributers of medicines and medical and personal protective equipment.
Education and childcare
This includes nursery and teaching staff, social workers and those specialist education professionals who must remain active during the COVID-19 response to deliver this approach.
Key public services
This includes those essential to the running of the justice system, religious staff, charities and workers delivering key frontline services, those responsible for the management of the deceased, and journalists and broadcasters who are providing public service broadcasting.
Local and national government
This only includes those administrative occupations essential to the effective delivery of the COVID-19 response or delivering essential public services such as the payment of benefits, including in government agencies and arms length bodies.
Food and other necessary goods
This includes those involved in food production, processing, distribution, sale and delivery as well as those essential to the provision of other key goods (for example hygienic and veterinary medicines).
Public safety and national security
This includes police and support staff, Ministry of Defence civilians, contractor and armed forces personnel (those critical to the delivery of key defence and national security outputs and essential to the response to the COVID-19 pandemic), fire and rescue service employees (including support staff), National Crime Agency staff, those maintaining border security, prison and probation staff and other national security roles, including those overseas.
Transport
This includes those who will keep the air, water, road and rail passenger and freight transport modes operating during the COVID-19 response, including those working on transport systems through which supply chains pass.
Utilities, communication and financial services
This includes staff needed for essential financial services provision (including but not limited to workers in banks, building societies and financial market infrastructure), the oil, gas, electricity and water sectors (including sewerage), information technology and data infrastructure sector and primary industry supplies to continue during the COVID-19 response, as well as key staff working in the civil nuclear, chemicals, telecommunications (including but not limited to network operations, field engineering, call centre staff, IT and data infrastructure, 999 and 111 critical services), postal services and delivery, payments providers and waste disposal sectors.
17.3.2020
New guidance for households with symptoms
Yesterday, the Government introduced new guidance on whole household isolation in response to the coronavirus (COVID-19) outbreak:
• if you live alone and you have symptoms of coronavirus (COVID-19), however mild, stay at home for 7 days from when your symptoms started
• if you live with others and you or another member of the household have symptoms of coronavirus, then all household members must stay at home and not leave the house for 14 days. The 14-day period starts from the day when the first person in the house became ill. It is likely that people living within a household will infect each other or be infected already. Staying at home for 14 days will greatly reduce the overall amount of infection the household could pass on to others in the community
• for anyone in the household who starts displaying symptoms, they need to stay at home for 7 days from when the symptoms appeared, regardless of what day they are on in the original 14-day isolation period.
The symptoms are:
• A high temperature (37.8 degrees and above)
• A new, continuous cough
The full stay at home guidance for households with these symptoms can be found here:
• https://www.gov.uk/government/publications/covid-19-stay-at-home-guidance
12.3.2020
Please find below a link to the Governments response plan to the current Covid-19 outbreak. Please follow this for more information.
https://www.gov.uk/government/publications/coronavirus-action-plan
Also below is our schools planned response to any outbreak and expected actions. We currently are at level 3 of this plan and as a staff are making necessary decisions on a day by day basis. We will keep you updated as often as possible over the coming weeks.
6.3.2020
We are continually monitoring current advice from both Public Health England and the Department For Education. At this time the advice remains that people wash their hands thoroughly to help to stop it spreading.
If you or a member of your family is unwell and are displaying any symptoms, please notify the school office on 01229717664.
We will update you on any change to educational advice as we receive it.
Thank you.
Please see our "News and Events" page for regular whole-school updates. Class pages are full of our latest adventures too.
Point your kids in the right direction— when they're old they won't be lost. Proverbs 22:6 The Message
"Pupil behaviour is outstanding. As a result of effective relationships, pupils behave exceptionally well in lessons; they work hard and are becoming more resilient learners." OFSTED 2019
Welcome
Believe, respect; inspire and trust
At Waberthwaite C of E Primary School we are proud of our students and staff; of their achievements and of the positive atmosphere they create. It's important to us that we provide a supportive and inviting learning environment where pupils enjoy learning, feel safe and make a positive contribution. Success is celebrated in the knowledge that this will encourage greater achievement in the future. Our school provides education in accordance with the principles and practices of the Church of England. Worship, religious education and spiritual development are at the heart of every aspect of the work of this school.
Ours is a caring school where the children are warmly received and encouraged throughout their time with us to 'aim high', fulfil their potential and engage with all the opportunities the school has to offer. We firmly believe that for this to be best achieved we must establish a genuine partnership between home and school. We pride ourselves on open communication, so if you have any questions or comments regarding the website or any other matter, please do not hesitate to contact either your child's class teacher or me.
Thank you
Mrs Sandra Cummings
Head Teacher
''We may be a small school, but we all feel part of a big family.'' SIAMS 2018
Our Christian vision created by pupils, staff and parents:
We want our children to:
Show endurance and friendship.
Be compassionate and kind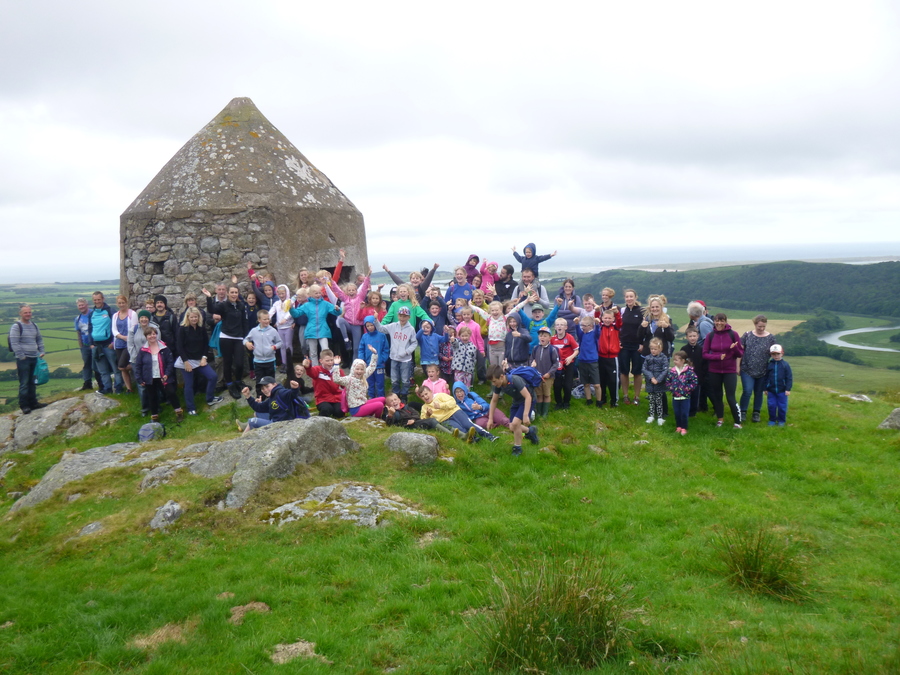 Pupil's behaviour is outstanding. They show respect to one another and to adults. OFSTED 2019
Children's exemplary behaviour and positive attitudes to learning are closely linked to their understanding of the Christian values of endurance, friendship, compassion and kindness. SIAMS 2018
For any queries relating to Waberthwaite CE School please contact either Mrs Sandra Cummings (Head Teacher) or Mrs Yvonne Hey (School Administrator) on the number 01229717664.
If you have any specific queries regarding special educational needs please contact Mrs Cummings who is the school SEND co-ordinator.