10.07.2020
Week 13 of our home schooling journey - it's been great to see you all this week!
3rd July 2020
Week 12 of our home schooling adventure - and it's been great to see most of you back in school part time this week!
26.06.2020
Week 11 of our home schooling adventure - it's sports week and it's great to see even more children back in school!! Yippee!!
19.06.2020
Week 10 of our home school adventure - it's all about under the sea this week and some of us are returning to school!
12.06.2020
Week 9 of our home schooling adventure - and this week it's all about celebrations!
05.06.2020
Week 8 of our home schooling adventure - and this week it's all about FOOD!!!
22.5.2020
Week 7 of our home schooling adventure - and we've made it to half term!
15.05.2020
Week 6 of our home schooling adventure - and still working and playing as hard as ever!
08.05.2020
Week 5 of our home schooling adventure - please take a look at the School News page of the website for pictures of our V E Day artwork.
01.05.2020
Week 4 of our home schooling adventure - and we're so proud of you all!
24.4.2020
Week 3 of our home schooling adventure - and the sun's still shining!
17.04.2020
Week 2 of our home schooling adventure - everyone's doing brilliantly!!
27.3.2020
Week 1 of our home schooling adventure!
17.3.20
Hardknott Forest Restoration Project
Today we spent a wonderful day at Hardknott Forest. The main purpose of our visit to the forest was to set up a wildlife camera. We baited our camera with peanuts and dog food. Images of the woodland creatures that are captured by our camera will be sent to school so we can share them with our school community - we are very excited and hope to get something big!
Our adventures didn't just stop at setting up our camera, first of all we did a scavenger hunt. We also tried our hand at identifying the forest's trees, mammals, birds and reptiles. We helped establish some willow by the river; to do this we had to use loppers to take cuttings of the willow up on the hillside and then transport it to the river where we then cut it to size and pushed the cuttings into the soil. We planted some wild cherry trees that will provide colourful blossom and fruit for the birds for years to come. Last of all we were given a challenge to work out how to set up a group bothy shelter. Walking around the forest gave us some spectacular views, we really did have a great time.
Many thanks to John, Craig and Tamsin for giving us such a special day. We all thoroughly enjoyed it.
10.3.2020
Enjoying a shared read with the class one pupils.
6.3.2020
Clay and Wire Bugs
We have created these bugs to go on the whole school Creation display in the school hall. When the clay has dried we will paint our bugs bright colours and add them to the display.
5.3.2020
World Book Day 2020
We had a great World Book Day today. Thank you to everyone who made such an amazing effort with their beautiful costumes. You all looked fantastic!
During the day we enjoyed a range of World Book Day activities including a whole school assembly, a live lesson from Puffin Authors and Illustrators, we made book marks and we also had great fun doing a whole school book scavenger hunt.
28.2.20
Kids Workout
We have been trying out a Kids workout with Joe Wicks. Our aim is to start doing this every day to keep us fit and healthy.
26.02.2020
Take a look at the 'Waberthwaite as a Church School' section of the website, under the 'About Us' tab, to see what we have been up to for Shrove Tuesday and Ash Wednesday - we have been very busy!
12.02.2020
Art & Crafts
As a reward for achieving 4000 points on Dojo, class 2 had their 'Art & Crafts' morning. We chose our favourite Ancient Greek mythical creature and had a choice of a wide range of different art materials, such as paint, oil pastels and collaging using tissue paper or newspaper. The end results look fantastic and we are looking forward to adding character descriptions to our 'Greek Myths and Legends' display in class...
11.02.2020
STEM Challenge
As a reward for achieving another milestone (5000 points) with our class Dojo points we all took part in a STEM challenge. Each group had identical resources to engineer the tallest tower. It was quite the challenge and we were continuously having to evaluate our methods and adapt these! The tallest tower was whopping 138cm – we think we can beat this when we are given this challenge again as we have thought of better ways to make our towers stronger and more stable!
7.2.2020
STEAM Trail
STEAM stands for Science, Technology, Engineering, Art and Maths. The trail gave us an understanding of how STEAM subjects are part of our daily lives and how they are represented within the organisations that are located on the Westlakes Science Park. This was a fun and interactive trail that was great fun to follow. Thankyou to BEC and Sellafield Ltd for a fantastic morning.
4.2.20
Greek Pottery
As part of our topic about Ancient Greece we have been learning about Ancient Greek art work. We have created some Greek pots using a coil pot technique and we have decorated them in the style of Greek Olympic pottery that depict images from the ancient Olympic Games.
3.2.2020
Wheelchair Basketball
It was great to welcome Matt back into school today to lead another exciting wheelchair basketball session. Everyone had so much fun. Thank you Matt; you are a world champion and a fantastic inspiration to us all.
We are already looking forward to your next visit.
30th January 2020
As a class, we finished writing our own set of instructions on 'How to Capture and Release an Ice Dragon', using the 'How to Trap a Stone Giant' Talk4Writing text as a structure. We really enjoyed coming up with lots of ideas and are very proud of our final draft! Let's hope we never need to follow these instructions...
10.1.20
Bake-Off Challenge
This morning the children had a Bake Off style 'technical bake'. Each group was given a recipe to follow and they just had to get on with it! They all did brilliantly.
15.10.19
The Great Fire of Waberthwaite
Have a look at the Forest School page of the website to see what we've been up to!
16th September 2019
Forest School
What a great start to the week we had in class 2 with our adventure to the Forest! On our way down we had a seed hunt, linked to our science lesson on Monday, where we had to think about how the seeds would be dispersed by wind, animals, water or drop/explosion.
It was such a beautiful day that we decided to have a bit of quiet time where we reflected on what we think makes the world wonderful. From this we made some fantastic pictures using natural materials – the teachers had to check whether we had brought the felt tip pens because of some of the colours we created!
A trip to the Forest is not complete without some games and what fun we had!
10th September 2019
London's Burning
10.6.19
Take a look at the John Muir Page to see what we've been up to!
29th March 2019
Working Scientifically
This afternoon, we used magnifying glasses to make careful observations of a range of different rocks, such as limestone and chalk, and drew detailed, oil pastel observations of these with labels and descriptions. We had to think about the appearance, texture and colour of each rock in our descriptions.
29th March 2019
This morning in RE, we explored the 'big story' of the Bible, using the poster in the hall and having discussions as to where we felt the concepts 'Creation', 'Fall', 'Incarnation' and 'Gospel' were represented. There were some fantastic ideas shared and we needed very little help from Miss Ross! We then went back to class and started drawing our own pictures to represent these four concepts.
25th March 2019
For more photographs of today's Forest School please see the Forest School page!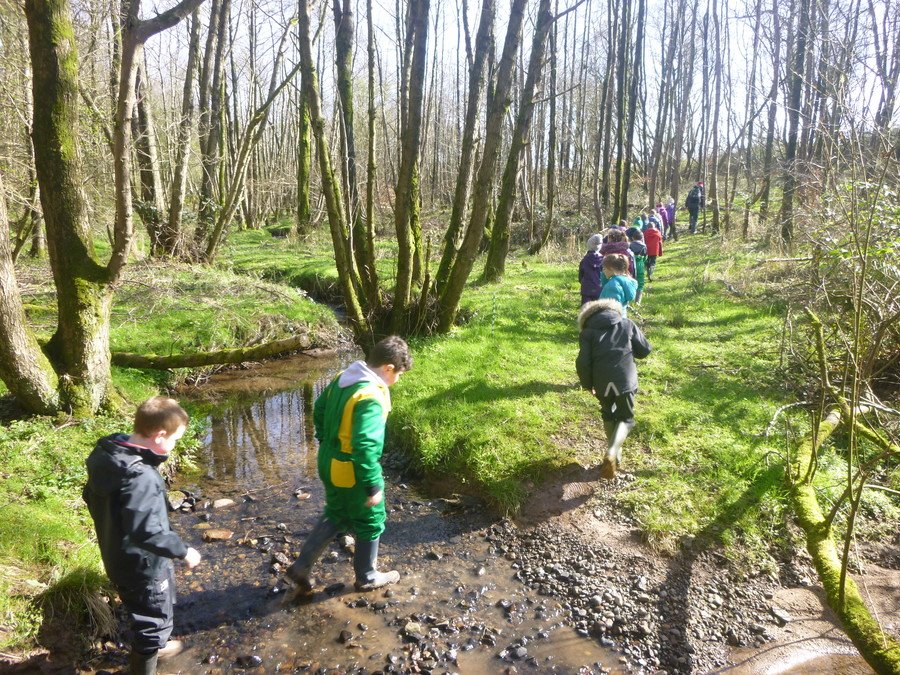 19th March 2019
Irton Church
We had a fantastic time today at Irton Church and found out so much! We learnt about the different parts of the church and the history of the architecture.
Did you know that some of the windows were designed and made in William Morris' studio?
After that one of the bell ringers told us all about the different bells and we even got a chance to ring them...which was trickier than it looked!
Reverend Hart then talked us through the service that takes place when someone is being baptised. We found out that the water represents the Father, the oil represents the Holy Spirit and the candle represents the Son - the holy trinity.
To end the morning, we walked around the outside of the church and saw one of the oldest relics on site - the Celtic cross.
What a beautifully interesting church to have right on our doorstep!
8th March 2019
On Tuesday we wrote some fantastic poems in our writing groups, using the poem 'If You Should Meet A Crocodile' as inspiration! We then drew text maps and came up with actions, which we then shared with the rest of the class...
7th March 2019
What a wonderful effort everyone put into their World Book Day outfits today...
12th February 2019
Today we taught our friends in year 1 how to use the computer programme 'Scratch'. They worked very hard and we look forward to what they will be able to create!
11th February 2019
In RE, we have been exploring the 'trinity' in Christianity. We were given the headings 'Father', 'Son' and 'Holy Spirit' as well as lots of describing words. We then decided whether the words were describing the 'Father', the 'Son' or the 'Holy Spirit'; some words were quiet tricky and we had to use a dictionary to find out the meanings.
We had some fantastic discussions in our small groups as to where we thought the words should be placed, and then shared these with the class. We made sure we were respectful and justified our ideas by reflecting on their own beliefs as well as relating it to stories from the Bible.
4th February 2019
We have started reading a poem every day in class 2.
After reading 'Bump!' by Spike Milligan, we decided to learn it off by heart and even came up with a few actions...
22nd January 2019
This morning, we have been very busy learning a persuasive text called 'Hawk Ridge Farm Park'. We almost know it off by heart...
17th January 2019
LLW Repository and NSG kindly invited us to the site at Drigg which is really important to our local community. We had a very fun morning learning about how low level waste is stored and disposed of safely.
We took part in a practical activity which showed the children the most effective and environmentally friendly ways to dispose of and store the waste.
We talked about the different roles of work carried out on site and we got to try on some of the PPE safety wear the staff have to wear whilst working to ensure their safety, the children all agreed it was very tricky with all those layers on!
We were very surprised with the size of the site and all the different types of jobs needed to make this site work everyday.
It was great to meet everybody who we will be working closely with for our Bright Stars project.
9th November 2018
The children have been researching war veterans from our local area, using information they got from their trip to Millom discovery centre and various websites.
They have created some beautiful fact files, and we have put some below for you to see.
9th November 2018
Lest we forget
On Monday 5th November we visited the Discovery Centre in Millom. We were asked to research some of the soldiers whose names appeared on the war memorial. This inspired us to research the names on the Waberthwaite War Memorial that is just outside school. We then shared the information that we found with the Community and Royal British Legion at the Remembrance Day Service.
To hear what we found out about the Soldiers from Waberthwaite please watch the videos below.
19th September 2018
Music
We had a fantastic session with Mrs Kenyan, where we were able to test out our new instruments for the first time!
18th September 2018
Kidsafe
Today we started our Kidsafe sessions and look forward to finding out more about how to keep safe. We are all very excited to see KS again!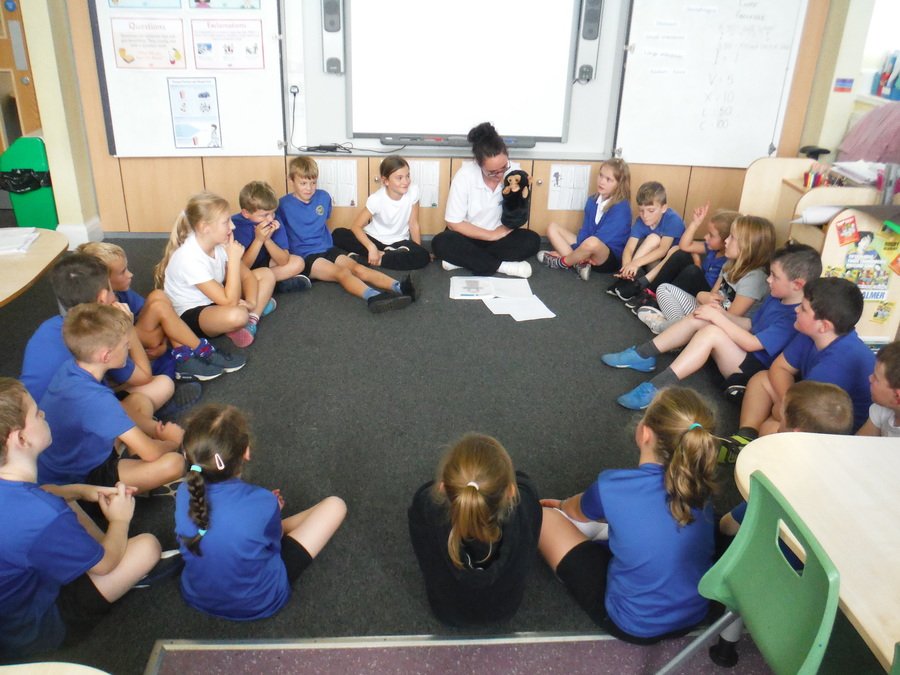 Friday 13th July
Bastille Day 2018
Together with class 3 , we celebrated Bastille Day in School today. Mrs Martin organised a number of activities with a French theme. We built the Eiffel Tower using newspaper, created paintings in the style of Monet and practised French singing.
What is Bastille Day and why is it celebrated?
The French National Day is the anniversary of Storming of the Bastille on 14 July 1789, a turning point of the French Revolution, as well as the Fête de la Fédération which celebrated the unity of the French people on 14 July 1790. Celebrations are held throughout France.
6th July 2018
Baking
Class 2 have worked exceptionally hard and have earned their 4th treat on our class rewards. Mrs J very kindly baked bumble bee cakes with us, which classes 2 and 3 then had as their pudding at lunch time. Take a look below and see how yummy they look...
2nd July 2018
Transition Day #2
Another fantastic transition day with the year 1s, joining us as year 2s! We had lots of fun swimming and playing rounders in the morning, followed by drawing self-portraits and decorating plant pots for the Waberthwaite Horticultural Show in the afternoon.
2nd July 2018
Take a look below at some of class 2 learning to dive this morning...
29th June 2018
As part of 'Road Safety Day', we designed t-shirts and helmets that promote road safety and the charity 'Brake'. Take a look at them below...
29th June 2018
Our Bee Sanctuary
Class 2 are very impressed with our bee sanctuary! The seeds we planted have grown into beautiful, flowering plants! We are looking forward to seeing lots of bees and other insects enjoying our sanctuary in the future!
29th June 2018
Road Safety Day
We have learnt lots today about keeping safe on roads, from being a pedestrian to being in a vehicle. We really enjoyed completing our vehicle survey and everyone was very opinionated about how safe people were driving.
28th June 2018
Big thank you to the year 5s who spent part of their afternoon teaching some of class 2 how to crochet! We might need your expertise again some time soon!
18th June 2018
Transition Day
What a fantastic day we all day! It was lovely getting to know our new classmates for September. They all fit right in and had lots of fun swimming and playing rounders. We are looking forward to the next transition day in a couple of weeks!
15th June 2018
Class 2 are very proud of their tomato plants and salsa recipes, and would like to say...
11th June 2018
Swimming
Here are some photos from our second visit to St Bees school swimming pool. We work hard but we can see our swimming is improving!
24 May 2018
After the fiddly job of making our beads out of clay, we then had an even fiddlier job to do when stringing our stone age necklaces together...
17th May 2018
Stone Age Jewellery
This afternoon we were busy making stone age inspired jewellery out of clay. You can tell by our faces that it was a fiddly job to do!
15th May 2018
Class 2 have been busy bees today in our garden! They tried on bee keeper outfits as well as creating bees from small pine cones and stones to decorate our garden.
8th-9th May 2018
Hinning House Residential
What a fantastic time we all had at Hinning House! On the first day the weather was a bit miserable but we didn't let that dampen our spirits...even though we all got soaking wet! The next day we went ghyll scrambling and got even wetter than the first day. Take a look at some of the photos below to see how much fun we had...
27th April 2018
Great Work Class 2!
In our class we have a rewards system where great work or achievements are celebrated by the individual or group of children putting a marble in the bottle.
This week, as a team we reached the Pyjamas and Teddy bear day. Everyone came to school in their PJ's and we brought our favourite teddies in. It was great fun and our teddies were very good students; they learned lots of new skills and were able to see what brilliant work we do!
Well done Class 2! When we reach the next level we will enjoy some time baking!
27th April 2018
Science
This week in Science we have been heating and cooling different materials to see if they change state.
22nd March 2018
Islam Workshop
We had a fantastic workshop with Imran, who came to tell us all about Islam. We learnt a huge amount and had a lot of fun with him. Thank you!
Fun in the Snow
Do you want to build a snowman? ? On Wednesday 6th February we were extremely lucky to have snow fall and settle during our extended morning break. We had lots of fun in the snow and recapped on our previous knowledge about the water cycle and how snowflakes are formed! Hands on science!
12th January 2018
We have been learning about Haiku poems this week and decided to write a class haiku about summer...
Summer
The scorching, bright sun.
Swimming, playing at the beach.
Cold, creamy ice cream.
13th December 2017
Gingerbread Men
We were all so excited to make gingerbread men! We got a little messy in the process but agreed that was part of the fun! The smell of the gingerbread men drifted throughout the whole school...everyone said they smelt amazing!
19th October 2017
Volcano Art Gallery
19th October 2017
We all really enjoyed creating volcano art work!
We used lots of different techniques to get different effects; our favourite was flicking and splattering the paint, which got very messy!
Our 'Volcano Art Gallery' is coming soon but is currently drying!
11th October 2017
Class 2 had a fantastic time learning all about volcanoes and earthquakes with Steven this morning! He shared some video clips and photos he had personally taken before exploring different rocks he had collected - including volcanic rocks!
It was lots of fun when we created our own volcanoes and also very messy!
6th October 2017
After hearing about our science topic about seed dispersal, Miss Ward saved the flower head of one of our school sunflowers, which was full of seeds!We are very much look forward to planting these in our garden in spring!
Thank you Miss Ward!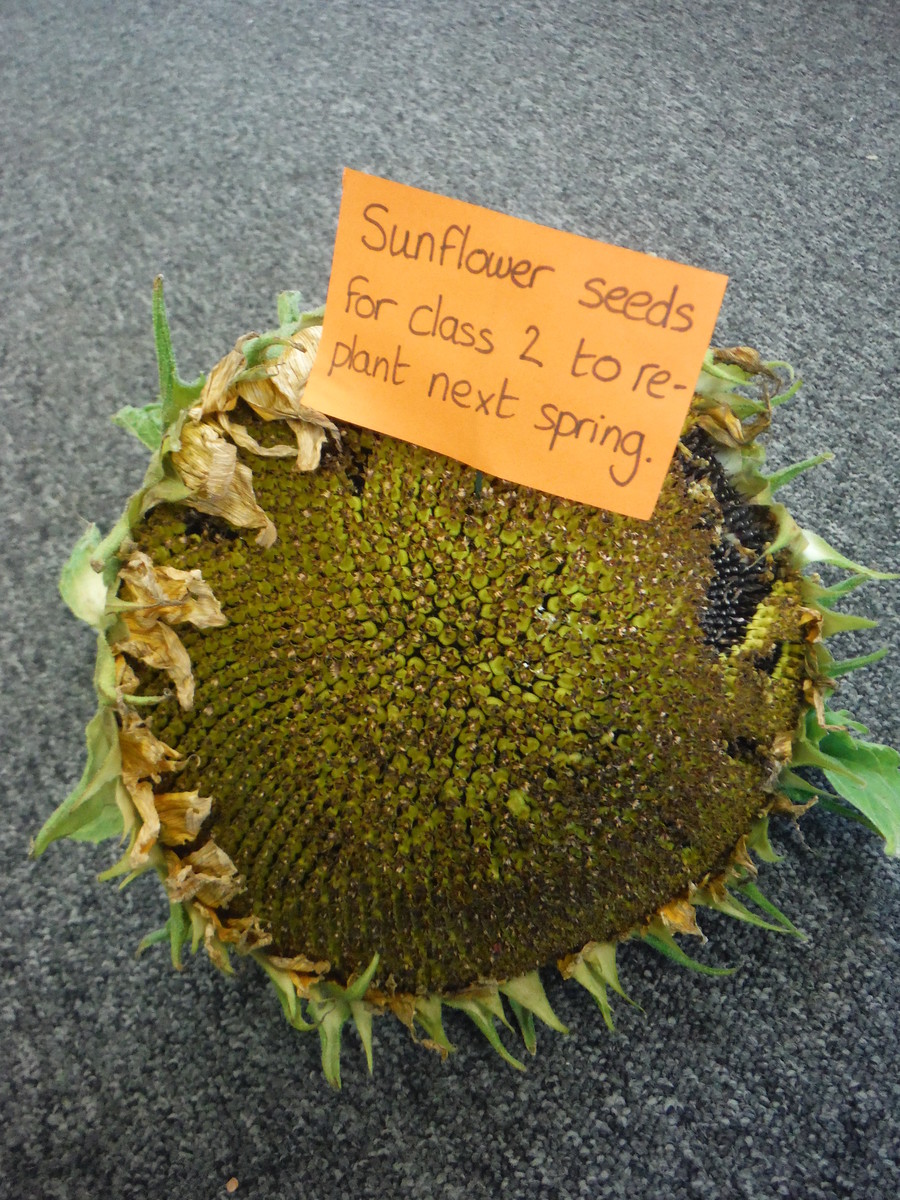 2nd October 2017
We are all really enjoying science this year and have just finished our first science topic where we explored seed dispersal. Look at how much fun we had on our seed hunt and exploring different types of seeds...
26th September 2017
Relax Kids
Class 2 thoroughly enjoyed their first 'Relax Kids' session with Jude. We learnt lots of ways to make ourselves relaxed if we feel stressed.
22nd September 2017
Thank you for letting us come in the share books with you Class 2 - we hope that we can come and do it again soon!
From Class 3
18th September 2017
We were all very shocked when we arrived at school today and could not enter our classroom until after assembly! We didn't know what had happened! After searching the classroom for clues to what had happened and discovering CCTV footage, we realised it had been an earthquake!
14th September 2017
Westmorland Show
What a fantastic time we had at Westmorland Show! We saw lots and lots, the sun was shining, and we were even lucky enough to see Prince Charles!
7.7.17
Waberthwaite Hounds Visit
Class 2 have been excited all week to visit the hounds and especially the hound puppies!
A big thank you to Blackcombe District Kennels who planned a brilliant afternoon for us! When we got there we had to judge four beagles, using what we had been taught about what makes a good beagle. After that we got to see the hound puppies, which we had been most excited to see, and they did not disappoint!
5.6.17
Pointillism
Class 2 have been learning a new art technique called Pointillism or 'Dotty Art' as Mrs Isherwood called it!
5.7.17
Dogs Trust Visit
Class 2 had a wonderful visit from the Dogs Trust today. We learnt how to be safe around dogs and all the hard work that Dogs Trust do!
Dan the dog had us all laughing when he decided to sit in Miss Ross' chair!
26.6.17
Class 2 Go to the Zoo
Everyone had a great time at Dalton Zoo and the sun decided to shine!
We were able to have a close up encounter with some of the animals, including feeding them! A great end to our 'Animals and their Habitats' topic.
18-19.5.17
Our Residential
We had a fantastic time on our residential to Hinning House! Take a look at the exciting things we did...
7.4.17
Class 2's Easter Performance
At the beginning of the week, Class 2 wrote a wonderful poem about Easter and made up actions to go with it.
At our Easter Afternoon, they did a great job performing it for everyone who came to join us!
7.4.17
Easter Afternoon
A huge well done to everyone who entered our Egg Decorating Competition!
They all looked fantastic and it was obvious a massive amount of effort had been put into them!
21.3.17
Comic Relief Coffee Morning
What a fantastic, as well as busy, morning! A massive thank you to everyone who brought in items for the Bric-a-Brac stall and cake stall, as well as to everyone that joined us this morning! It was hugely appreciated and made it a BIG success!
Well done to class 2 who worked extremely hard and thoroughly enjoyed the coffee morning. It gave them a chance to practise working with money and change, which most agreed was their favourite part of the morning!
Our grand total for the coffee morning was an incredible £277.55!