Have a look on the News and Events page for more news about what we have been doing!
Class 3
Have a look on the 'Curriculum Overview' page to see our timetable, and also an overview of the topics we will be covering this term.
13.6.19
Annual Leavers' Service at Carlisle Cathedral.
Today the year 6 pupils travelled to Carlisle to take part in the leavers' service at Carlisle Cathedral. This was a fun and energetic service during which two representatives from our year 6 proudly paraded a school banner down the Cathedral isle and a third collected a special candle for us to use in our collective worship at school. Thank you to this wonderful year group for representing our school with such maturity and making us all so proud - you truly are a great bunch!
Canon Michael rocked that Cathedral!
(Unfortunately you have to lie down to fully appreciate this video - terribly sorry!)
Spring 2019
John Muir Award
Please take a look at The John Muir Award page in the News and Events section of the website to see our latest adventures.
Our performance of Shakespeares Twelfth Night
We are so proud of all of class 3 after their amazing performance of Twelfth Night at Theatre by the lake on Wednesday, you were AMAZING !
Music
We are very impressed at how well Class 3 are doing with their brass lessons , they are having lots of fun learning different songs ! Well done Class 3

Water Workshop
We were very lucky on Tuesday to be visited by Jenny from United Utilities , who spend her morning with us talking about how we get our water and were it comes from and the process the water has to go through before we can drink it .
05.10.18 This is our entry into the Millom Town Council Scarecrow Festival 2018. The theme is Word War I, so we came up with the idea of a scarecrow on horseback and a plane flying a banner commemorating the 100 years since the war ended. Thank you to Miss Ward and Mrs Martin for all their help.
React Foundation Science and Engineering Show 2018
05.10.18 - We had a fantastic time at the React Foundation Science and Engineering Show at Millom School. We learnt all about forces and Sir Issac Newton and made a new friend in Phil the Stunt Frog.
On Thursday 4th October we celebrated National Poetry Day. We looked at examples and features of Kenning poems and created some of our own. Watch the videos below of the children performing their Kennings.
Amazing arrows and incredible images !
We had great fun during science learning all about refraction, we carried out two different experiments which helped us to understand how refraction works.

A visit from Tom Palmer
Today we were very lucky to have the author Tom Palmer come into school and talk to us about his books and his journey as an author. We even got to play a football themed reading game were we got to take penalties against Mrs Isherwood!

29.6.2018
Fundraising for Brake!
Thank you to Nicola, Denise and Sharron for coming into school with delicious cakes and biscuits for us to buy to raise funds for Brake! We also got to guess the name of the zebra and guess how many lollipops were in the jar!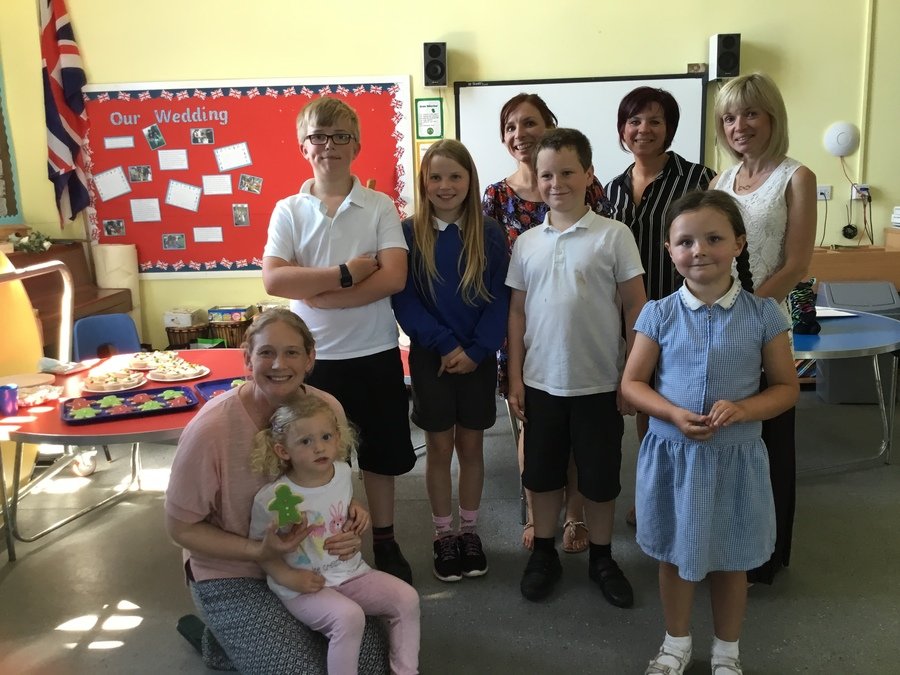 29.6.18
Crochet Crazy!!
Class 3 have gone crazy for crocheting...and the craze is spreading to class 2. Mrs Martin has been introducing traditional crafts such as crocheting and tie dying to the class 3 pupils and they now spend their break times showing others how to crochet and creating some very impressive specimens out of wool.
15.6.18
we have been thinking about osmosis in Science, as the process by which our body absorbs energy from our food. Unfortunately we had to use sweets to help us with this experiment!! We were amazed by the changes that took place but found that most of our predictions were true.
14.6.18
Bestill my beating heart!
As part of our Science topic on the human body and circulatory system, Class 3 have been making clay hearts to explore all of the components. The lion would have been proud to get any of these from the Wizard of Oz!
12.6.18
Class 3's Marching Band
Well done class 3! You managed to march ALL the way there... and ALL the way back!
16.5.18
We have been looking at patterns in nature with our Living Things and Habitats project. We have created leaf and bark rubbings to explore pattern and texture.
10.5.2018
We have been busy filling the 'floors' on our 5* bug hotel - we hope they can afford the overnight prices!! We had a great time and enjoyed the sunshine. Hopefully lots of insects will appreciate our project and you never know, the birds might too.
April 2018
Our new science topic is Living Things and Habitats and so we have decided to focus on insects! We have been on a bug hunt and are now going to fill the school bug hotel to make a wonderful habitat. We can't help but wonder if we will see more birds if we increase the number of insects in the area ... this is also a part of our topic.
We can't believe how well Class 3 are doing with their brass tuition, especially considering they have only been learning since September!
26.04.18
Day 2 and 3 at Robinwood
Class 3 have thoroughly enjoyed a few days at Robinwood. We continued to take part in amazing activities such as caving, the giant swing, the crate challenge and finally... the pirahna pool!
Thank you so much Class 3 for showing true team spirit, always being kind to each other and above all having lots of fun!
23.04.18
Robinwood- Day 1
Class 3 have had an amazing 1st day at Robinwood. We have participated in lots of different activities including archery, canoeing, the trampeze, the dungeon and tonight... the team challenge! We have witnessed some impressive dance moves including our new "waber" move! Every single child has challenged themselves, shown resilience and most importantly played an important part of each team. Staff at Robinwood have already commented on how polite and well-mannered each child is so Miss Sharp and Mrs Sloane could not be any prouder. Time for a good nights sleep ready for another exciting day tomorrow!
March 2018
Our final total for Bright Stars is in and we raised an impressive £350 from our homemade items shop and Mother's Day raffle! That is £175 to donate to R.A.B.I and £175 for school. Well done to Class 3 and thank you to everyone who helped us to raise this fantastic amount!
February 2018
After our success in both Lego League by Year 6, and STEM Rocket challenge by Year 5, we were selected by Sellafield to work with their graduate scheme to test a series of computing lessons they are developing. Year 5 worked with the graduates to learn how to programme a Lego Mindstorm robot - it was awesome!
October 2017
We have been learning first aid skills with Little Lifers - we now have lots of basic knowledge so we can help ourselves and others in a potentially dangerous situation. Natalie was very impressed with us!
18.07.17
Passion Projects
The children were recently asked to do an independent research project, based around something they were interested in. The only criteria were that the project had to be linked to Cumbria in someway, and that each child needed to produce a piece of artwork, a piece of writing, and a verbal presentation. The effort the children put in was phenomenal, and the standard of work they produced was amazing. As you can see, we had projects on everything from agriculture to motorbikes to wildlife. We even had a visit from a tractor! (A big thank you to Mr Southward for taking time out of his day to come and see us.) WELL DONE, CLASS 3!
June, 2017
Manchester
Class 3 enjoyed the most amazing residential trip. They explored The Museum of Science and Industry, went Ten Pin Bowling at the Trafford Centre, gazed at the stars and planets at Jodrell Bank, had skiing lessons and went wild in the snow at the Chill Factore, ate and slept well at YHA Manchester, went football crazy at Old Trafford and voted the Imperial War Museum the most amazing museum they'd ever visited.
Thank you to everyone who went on this trip, you all made it totally awesome!