An imaginative use of the school grounds enriches the curriculum and contributes to children's spiritual development and wellbeing. The school's inspirational garden enables all pupils to grow and harvest their own produce. Children respond imaginatively to the gift of God's creation and our responsibility to care for the world.
SIAMS 2018
2020
At our school we hold an annual inter-class gardening competition. Each summer the winning class is presented with The Waberthwaite Gardening Shield. Winning the shield at Waberthwaite C E Primary School is just as important as winning sports day! It can get extremely competitive!
This year our inter-class competition was to grow the tallest sunflower. Each class was given 5 seeds to plant and nurture. The pupils planted their sunflower seeds and watched them start to grow. Each class discussed plans, shared age-old family growing secrets and willed their seedling on. The sunflowers were doing well on the classroom windowsills when sadly lockdown occurred and school closed. The pupils were reassured that all the little sunflower plants would be cared for by a member of staff and the competition would still go ahead! Phew!
The same happened with the potatoes that the pupils had planted, luckily these were in potato bags so could be transported from school to be cared for and watered by a member of staff. Regular potato and sunflower updates were shared electronically with the pupils and their families. The sunflowers are still thriving and the winning class will be announced when we all get back together in September.
Luckily for us, the potatoes were ready for harvest as the school opened it's doors to children of key workers at the start of June, so these children were able to harvest the potatoes. Instead of sharing the crop for our school lunches, like we normally do, the children bagged them up, made posters and shared them with our community who gave us some fantastic feedback – our lockdown potatoes were delicious!!
As we were not going to be able to get together with our school community in May to mark the V E Day 75th Anniversary, we asked pupils, parents and members of our community to help us create a commemorative art display on the Waberthwaite War Memorial, which is just outside our school. Everyone got knitting and crocheting poppies and our art installation was and still is, admired by many.
Throughout our time apart the children and staff have been sharing pictures and news of their home gardening adventures. There's been landscaping, cultivating, planting, mowing, watering, feeding, harvesting and plenty of healthy eating! We hope you enjoy looking through our photographs…
9.9.19
Waberthwaite, Corney and District Garden Club Show
Well done to ALL our pupils for all your beautiful show entries. They all looked so colourful in the village hall on show day! An extra special well done to our winners.
Thursday 5th September, 2019
Cumbria in Bloom Presentations.
We were very excited about attending the Cumbria in Bloom Awards Presentation Ceremony, at the Tithe Barn in Carlisle to see if we had won a prestigious gardening award.
We were delighted to hear that we had been awarded the Rex Marsden Shield for Enriching The Curriculum. This is testament to all the hard work that goes into creating a rich and exciting curriculum for the pupils at Waberthwaite C E School that embraces the use of the outdoor environment. Well done to all the staff for achieving this award and thank you to Mrs Sim for all her help in the garden, the pupils for all their hard work and our friends in the community for supporting us.
Well done everyone!
28.6.19
The Hideaway
Our Hideaway is an installation that marks the start of our new sensory garden development. The Hideaway offers a peaceful and calm place to work and is a wonderful place to display work that has been inspired by nature.
2019 Trophy Winners
The Winners of this years potato growing competition is............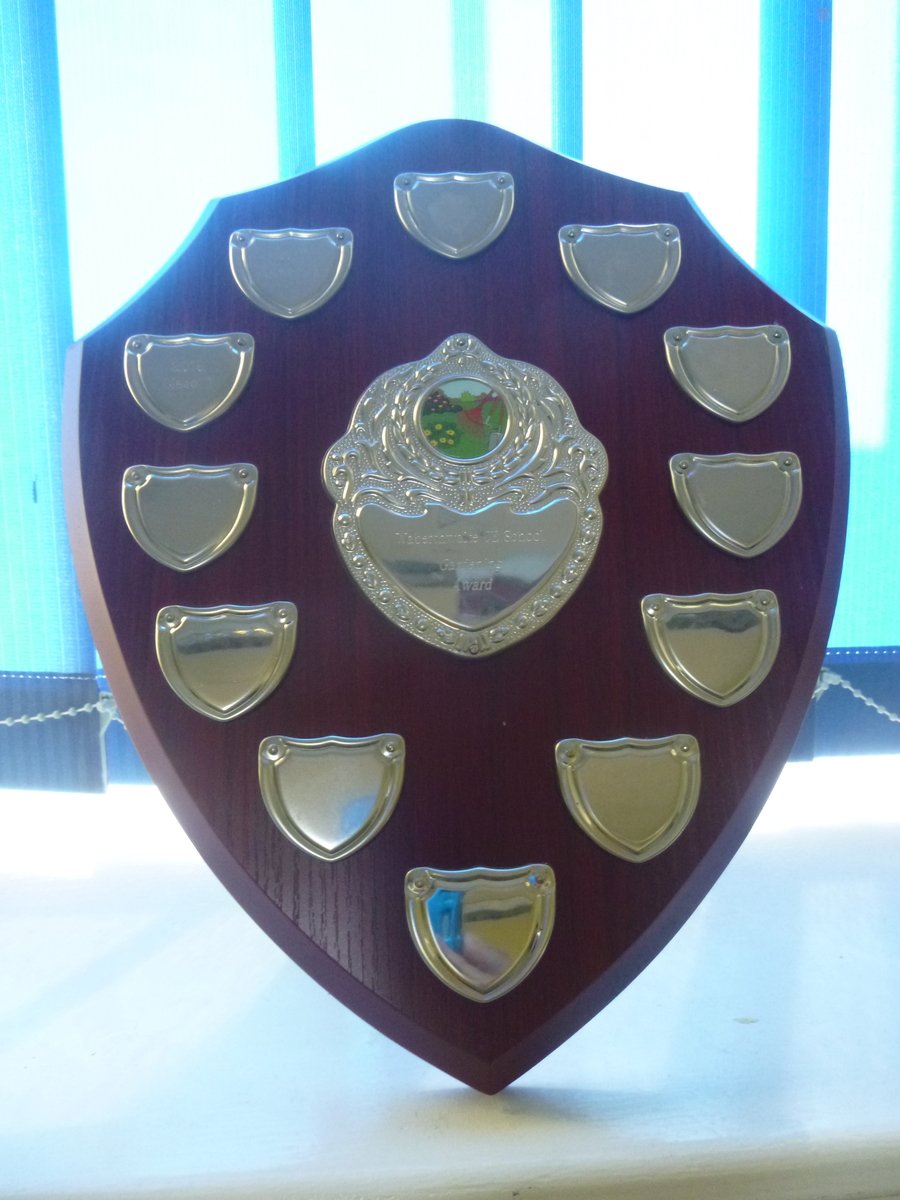 ...Class 2! Well done everyone!
Enjoying our Home Grown Potatoes
We always eat the fresh produce that we grow in the school garden for lunch. Our potatoes were very tasty.
Harvesting Our Class Potatoes
As part of our gardening calendar we hold an inter class potato growing competition and this week it's time to harvest our potatoes! Each year we all enjoy tipping the potato bags up and spotting the potatoes as they tumble out - it's like finding treasure! We weigh our potatoes and seal the results in an envelope which is opened in assembly and the results are announced. We will open the envelopes on Friday; it's very exciting!
Class 2 and 3 harvesting their potatoes.
14.6.19
Planting our Planters
All hands on deck today to plant up our flower planters with bedding plants. Many hands made light work so well done everyone!
15.5.19
Seeing How Our Garden is Growing.
Today we checked how our vegetable seeds are growing, the lettuces are peeping out of the soil. We also planted some special pumpkin plants that have been given to us by Muncaster Castle so we can enter their pumpkin growing competition. We saw where the bird camera is outside so we visited the library to see where the camera beams the images to.
7.5.19
Vegetable Patch Planting
This afternoon we planted our vegetable patch with vegetables that have been chosen by class 1 pupils. The vegetables will hopefully grow big and strong so that we can harvest them and use them in the school kitchen to help us grow big and strong! We are growing sweetcorn, beetroot, peas, carrots, lettuces and onions. We also have tomatoes and cucumbers growing in the greenhouse.
3.5.19
Peter Rabbit Garden
Today Class 2 started to plant up their Peter Rabbit themed garden.
April 2019
Spring Has Sprung!
Seed planting and garden preparation is well underway for the 2019 growing season. We have, once again, launched our inter-class potato growing competition. The class that harvest the heaviest weight of potatoes will be crowned this years winners and will hold the trophy for a year.
1st October 2018
Preparing the Planters for Bulbs and Pansies
Today we spent some time taking all of the old bedding plants out of the planters. We put some pansies in the hanging baskets and have some bulbs and violas to plant in the planters soon.
28.9.18
Monster Pumpkin Measurements
We have submitted our final weight and photographic evidence to the RHS for our Monster Pumpkin. Using the RHS's special mathematical pumpkin weight formula we have taken the required measurements, done the calculation and our Mr Pumpkin weighs in at approximately 28 kg. We will find out soon how we fair against the other 99 schools who also received special pumpkin seeds from the RHS.
21.9.18
Cumbria in Bloom Results
We have announced our Cumbria in Bloom successes in our assembly this morning so now we can proudly tell the world!!
1. Winner of Best School Garden Overall (that's in the whole of Cumbria)!!!
2. Winner of Greening Grey Britain for Wildlife.
3. Winner of Best Sensory/Quiet Garden Award.
4. Joint Runner-up for Enriching and Widening the Curriculum.
5. Joint Runner-up for Best Schools Container Garden.
6. Joint Runner-up for Best Schools Edible Garden
Along with a shiny trophy, a shield and £175 towards next year's gardening projects!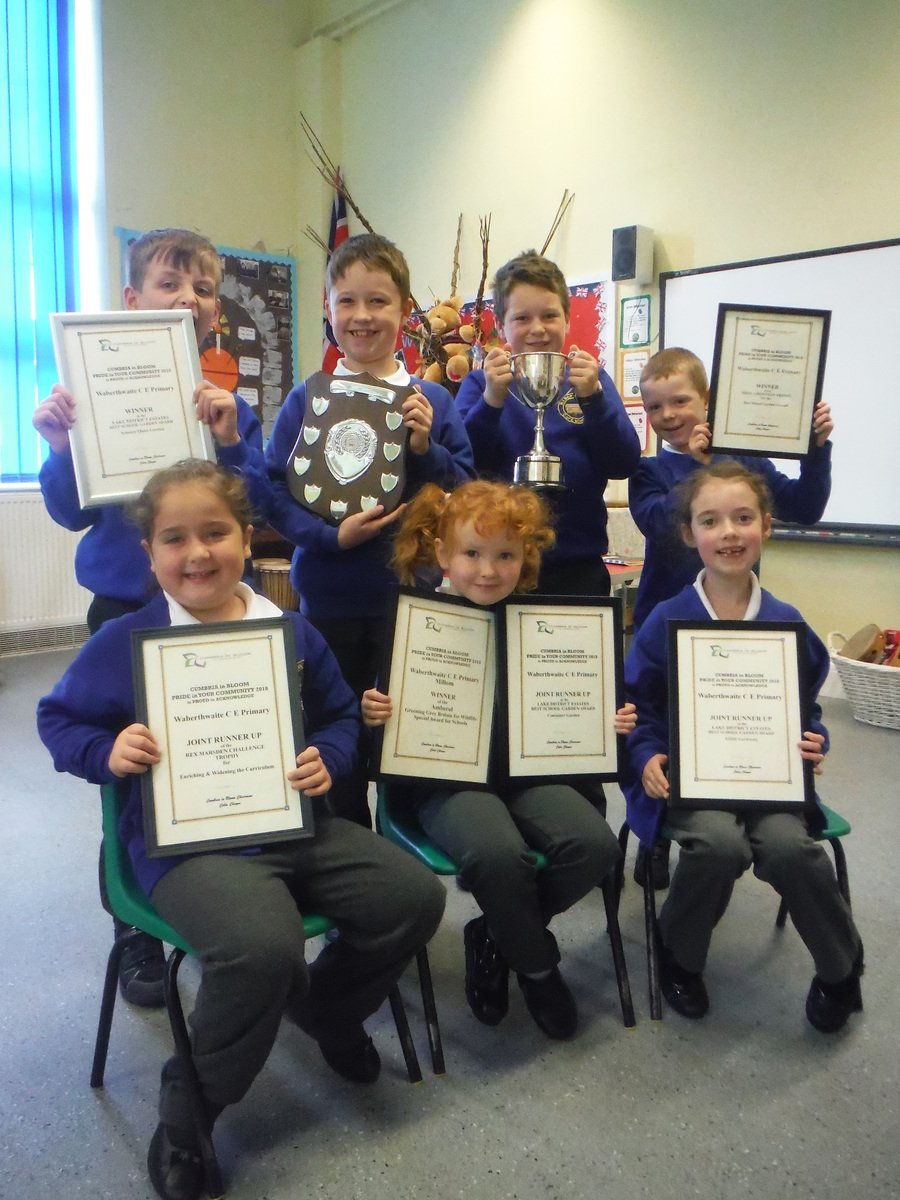 20.9.18
Cumbria in Bloom Awards Ceremony
Today representatives from Waberthwaite School attended the Cumbria in Bloom awards ceremony in the Coronation Hall, Ulverston. We are very proud as this year we did exceptionally well.
We will post the judges comments and details of the AMAZING awards we have won on this page after we have announced them in school tomorrow. Please watch this space; we want to share our outstanding achievements with the great many people who have supported Waberthwaite School gardening and enabled us to achieve such great results.
.14.9.18
Waberthwaite, Corney and District Garden Show Winners!
On Friday in praising assembly these children were awarded with certificates and prize money for their winning exhibits. Well done to everyone who took part and super well done to the winners of the classes.
8.9.18
Waberthwaite, Corney and District Garden Show
Well done everyone who entered the children's craft section at the show; the crafts made a wonderful display and were admired by lots of members of the community. Waberthwaite School also entered some flowers and vegetables from the school garden and we got a 1st place with our cherry tomatoes (beating 4 other local tomato growers), our asters came 2nd and our carrots got a 3rd.
Well done Waberthwaite School!
5.9.18
'Mr Pumpkin' started to grow in the first week of the summer holiday and now we are back at school he is really big! We are wondering just how HUGE he is going to be!
Well done team Waberthwaite!!
We have once again been classed as OUTSTANDING by the Cumbria in Bloom judges!! This year we can most definitely and very proudly say that EVERY class of green fingered pupils and staff have played their part in producing a garden to be extremely proud of. The flowers look amazing, the pollinating insects are loving the bee garden and the produce from the vegetable patch is going down extremely well at lunch times!
As well as all the staff and pupils working hard we have been supported and helped by many parents, grandparents and members of the community who have offered their time, expertise, muck, seeds, plants and enthusiasm to help us along the way. THANK YOU VERY MUCH!
10.7.18
Our Garden Looks Amazing!
Potato Harvest 2018
It's time for each class to harvest their potatoes, weigh them and enter their final weights into the inter class potato growing competition.
6.6.18
MONSTER Pumpkin Planting!
A few weeks ago the Nursery children planted 2 tiny pumpkin seeds that the school received from the RHS. The seeds are special and are guaranteed to grow MONSTER PUMPKINS. The children have watered their seeds, read them stories and checked on their progress regularly. Following a delivery of extra special pumpkin growing manure produced by the Capstick's cows it was finally time to plant the pumpkin plants out.
Many thanks to the Capstick family and their cows.
9.5.18
Planting Out The Vegetables
Today the class 1 pupils all worked as a team to plant up the vegetable beds.
They planted french beans, runner beans, rainbow chard, beetroot, red cabbages, spinach, white cabbages, curly kale, courgettes, carrots and loads of lettuces.
4.5.18
Class 2 Plant Out Some Bedding Plants, Strawberry Plants and Fruit Bushes.
Friday 20th April 2018
Today we have been kindly joined by Mrs Simm who is sharing her extensive gardening knowledge with both Children and Staff. We have been re homing the strawberry plants and planting seeds to create an amazing Bee sanctuary. It was also a chance for us to see how our seeds and potatoes are developing that we planted before Easter.
Class 3 Prepare The Beds For Planting
Spring has Sprung!
It's time to plant some flower seeds, tomato seeds and get our chitted potatoes in the ground.
March 2018
Setting up a New Bird Feeding Station
6.10.17
In true Waberthwaite spirit Class 3 have decided to make fun of the ongoing drainage works on our school field and gardens in their musical hero themed creation for the Millom and Haverigg scarecrow competition. Welcome to Waberthwaite - MUD!! Well done Class 3 on your fantastic entry!
BREAKING NEWS! We have received an invitation to the Cumbria in Bloom Awards Ceremony on the afternoon of Thursday 21st September at Silloth Golf Club. We are really excited to have been invited to this event and can't wait to see what special award we are going to receive. Watch this space for news...
9.9.17
Waberthwaite, Corney and District Gardening Club Show
Well done everyone! At this years show we managed 4 entries! Class 3 got a second with their stump carrots, and a third with their long carrots. Class 3 also managed to enter 4 beautiful tomatoes but the competition was too great to get placed in this class.
Class 1 received a third place with their flower arrangement (no larger than 6 inches in size). The bees and other pollinating insects are really enjoying the class 1 flower bed which is truly shining bright this rainy autumn.
Thank you to all the gardening experts who showed us the ropes once more at this local garden show. We had no idea that trimming carrots was so technical! Your help is always appreciated.
Cumbria In Bloom Success
It was a pleasure to welcome the Cumbria in Bloom judges this year; it is always nice to share stories and learn from like minded enthusiasts. They were particularly impressed with the way we link gardening to all aspects of the curriculum and how enthusiastic and knowledgeable the pupils are when it comes to all aspects of soil preparation and plant growth.
We were delighted to receive an OUTSTANDING award from Cumbria in Bloom this year.
23.5.17
As part of their World War One Day class 3 have been digging for victory and have planted lots of vegetable plants in their WW1 themed garden.
4.5.17
Class 1 plant lots of seeds in their flower bed. They are planting flowers that will attract pollinating insects to the school garden.
Today we weeded the original raised beds and wildlife area, potted up the baby strawberry plants and planted violas in our recycled milk bottle planters.
Spring time preparations for the 2017 growing season. Well done everyone, this afternoon we managed to go from this.......
2016 Gardening Highlights
Cumbria in Bloom Award Presentation
Monday 12th September
During the summer holidays we received a special invitation to the Cumbria in Bloom Awards Presentation! As the event clashed with our whole school trip to the Westmorland Show it meant that our young gardeners were unable to attend to see if we had won an award. Luckily, one of our school governors, Mrs Winzor offered to represent the school and attend the event on our behalf. Today, Mrs Winzor came in to our assembly to tell us if we had been successful and helped us to celebrate all the hard work that the pupils, staff, parents and members of the community had put into our garden since we started to develop it at Easter time. Mrs Winzor told us all about the presentation and how there were over 200 people there who had been busy making their schools, villages, towns, hotels and gardens look beautiful over the past months. It was good to hear how school gardening is going from strength to strength across our county with 26 schools entering the school category of Cumbria in Bloom this year!
This is how we did...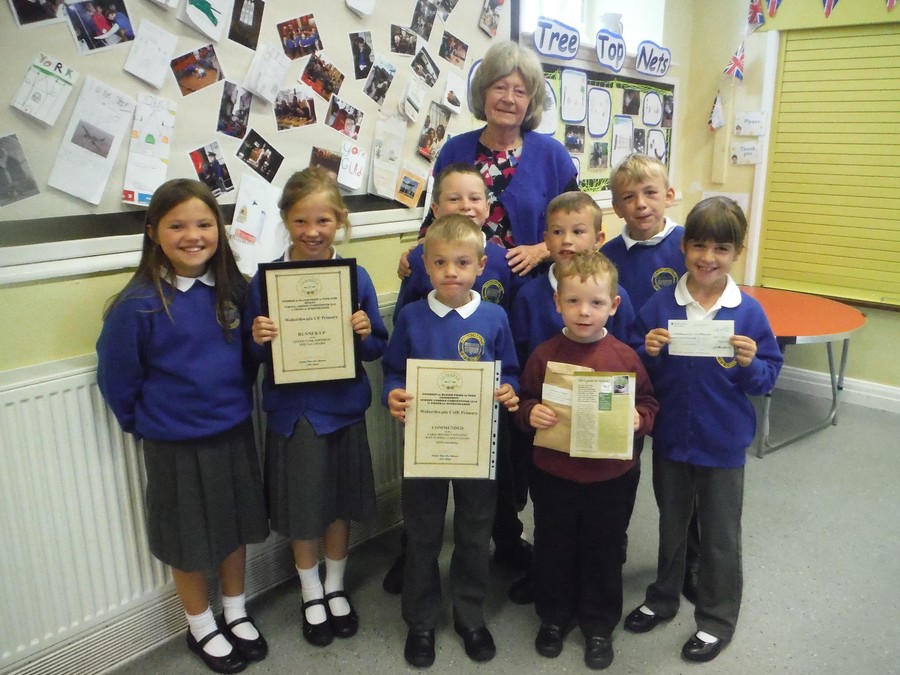 ...in the Edible Garden Section we received a Commended Award and in the Queen's 90th Birthday Special Category we achieved Runner's Up and £25.00! We also received some pea seeds from the Mencap charity as part of their 'Give Peas a Chance' campaign which we have put somewhere very safe so we can plant them next spring.
The children have been enjoying home grown vegetables for their school dinners (and will do for some time yet!) so receiving awards for their gardening as well was extra special. Thank you to Mrs Winzor and EVERYONE else who has helped, donated, advised and supported our gardening, it has all been very much appreciated and will continue to be welcomed with open arms! WELL DONE EVERYONE!
Waberthwaite, Corney and District Gardening Club Open Horticultural Show
Saturday 3rd September
A really big 'thank you' to Waberthwaite, Corney and District Gardening Club for all the advice and encouragement we received today as we entered our first horticultural show. We entered 5 classes, proudly showing off onions, potatoes, tomatoes and our enormous sunflowers! Our onions and tomatoes were dwarfed by the competition but our potatoes won a first in their class and a prize of £2 which will help towards buying seeds to grow next years entries!
Summer Holiday News
It's good to see that it's not just the weeds that have grown over the summer! The onions and potatoes have produced a good crop. The tomatoes are beginning to ripen and the swedes, carrots and leeks are getting bigger by the day.